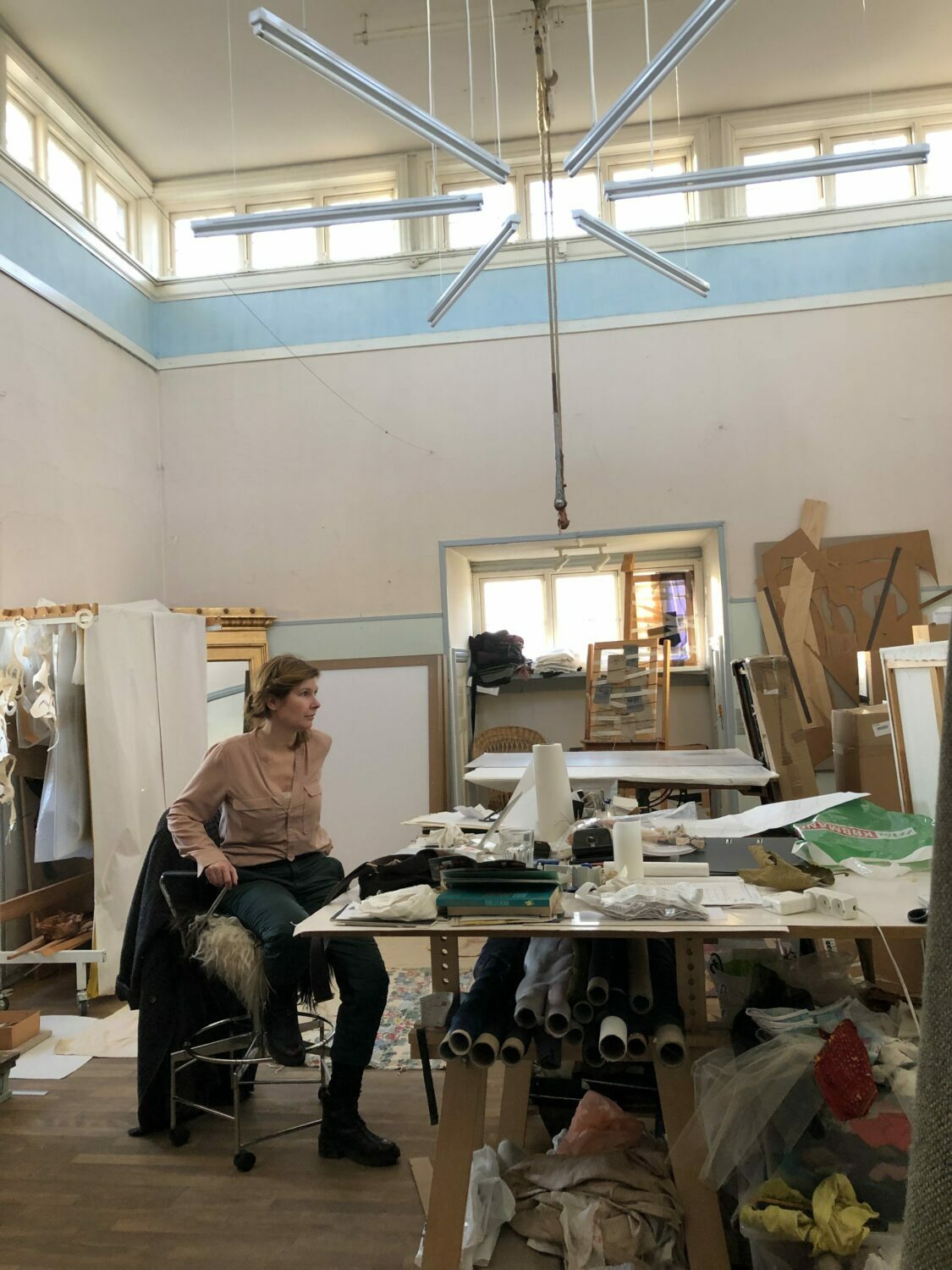 Pernille Egeskov born in 1970, lives and works in Copenhagen. Egeskov participated in the Spring Exhibition at Charlottenborg Palace in 2007. Since then she has worked as an artist and has participated in several group exhibitions and solo shows. She graduated in 1997 from the Royal Danish Academy of Fine Arts School of Design. She is an educated costume designer and has created costume designs for a number of plays and operas, from Gasværket and Grønnegårdsteatret to The Royal National Opera in Copenhagen and l'Opera National de Lyon in France. Her graduation project Bluebeard was a video installation with six staged films using textiles/ costumes and movement about the stage in between childhood and adulthood. The video was shown in 1998 in Stockholm on Artgenda.
Additionally she is the initiator and director/curator of the exhibition platform POP-UP Contemporary which shows solo and group exhibitions with various significant Danish artists. The exhibitions have been shown at different locations in Copenhagen.
Selected solo exhibitions:
2019 Belonging, Bornholms Kunstmuseum
2019 Cracks and Crevices, Haus8, Kiel, Germany
2017 Nye Voksne, (New Adults) Oktogonen, The Royal National Library, Copenhagen
2016 Home, The Anouska Hempel Apartment of Dinesen, Copenhagen
2015 UNRAVEL, curated by guest curator Merete Sanderhoff, The Museum of Art, Vejle
2015 UNRAVEL, Museumsbygningen by Banja Rathnov, Copenhagen
2010 Statemental, Pop-Up Contemporary, Copenhagen
2009 Curtains, Henningsen Contemporary, Copenhagen
2003 Shadow Land, Politiken vestibule
Selected group exhibitions:
2019 Om og om igen, curated by Camilla Thorup and Anne Torpe, Koldinggade 12
2018 Salo Europa, Museum Burg Posterstein, Germany
2018 Resonans, curated by Anna Holm, Pop-Up Contemporary, Copenhagen /Randers
2018 Revner og Sprækker, Gammelgaard, Herlev
2017 ARKIV, John Olsen and Pernille Egeskov,Copenhagen
2016 Papier trifft Textil, Kunst&Co, Flensburg
2016 Danish Design Now, curated by Lars Dybdahl, Design Museum Denmark
2015 Girls Only,21 artist women, curated by Antonia Marsh, GirlsOnly NYC, Copenhagen
2014-15 NÆRVÆRK curated by Martin Bigum, POP-UP Contemporary and Randers Art Society, Copenhagen and Randers
2012 PEEP (a), IKK-Festival, University of Copenhagen, Arts & Culture
2012 Relations POP-UP Contemporary and Randers Art Society, Copenhagen and Randers
2012 PEEP, POP-UP Contemporary, Copenhagen
2008 Summertime, Henningsen Contemporary, Copenhagen
2008 My Favorite Thing, curated by Peter Amby, Henningsen Contemporary, Copenhagen
Acquired by:
Art Museum of Randers
NYKREDIT Art Collection
Design Museum Denmark
Dinesen
Fritz Hansen
George Jensen Damask
Nominated for Nordic Award in Textiles 2017
Member of:
The Royal Danish Academy of Fine Arts, member of the Society of Artists.
Danish Visual Artists BKF
DA:
Født i 1970. Bor og arbejder i København. I 2007 debuterede Pernille Egeskov som billedkunstner på Charlottenborgs Forårsudstilling. Siden har hun arbejdet som billedkunstner og udstillet både solo og i gruppeudstillinger. Hun er uddannet i 1997 fra Det Kongelige Danske Kunstakademis Skole for Design. Her tog Pernille Egeskov en uddannelse som kostumedesigner, og har skabt kostumedesign til en mængde teaterforestillinger og operaer, fra Østre Gasværk og Grønnegårdsteatret til Operaen i København og l'Opera Nationale de Lyon i Frankrig. Pernille Egeskovs afgangsprojekt Blåskæg var en video installation med 6 iscenesatte film, der ved hjælp af tekstiler/kostumer og bevægelse omhandlede overgangsriten barn/voksen. Derudover er hun initiativtager og leder/kurator af udstillingsplatformen POP-UP Contemporary, som viser solo- og gruppeudstillinger med forskellige signifikante danske samtidskunstnere. Udstillingerne er blevet vist forskellige steder i København.
Udvalgte soloudstillinger:
2019 Belonging, Bornholms Kunstmuseum
2019 Cracks & Crevisis, Haus8 Kiel, Tyskland
2017 Nye Voksne, Oktogonen, Den Sorte Diamant
2016 Hjem, Dinesen Appartment, København
2015 UNRAVEL, kurateret af gæstekurator Merete Sanderhoff, Vejle Kunstmuseum, Vejle
2015 UNRAVEL, Museumsbygningen v/ Banja Rathnov, København
2010 Statemental, Pop-Up Contemporary, København
2009 Curtains, Henningsen Contemporary, København
2003 Skyggeland, Politikens Forhal
Udvalgte gruppeudstillinger:
2019 Om og om igen, kurateret af Camilla Thorup og Anne Torpe, Koldinggade 12
2018 Salon Europa, Museum Burg Posterstein, Tyskland
2018 Resonans, kurateret af Anna holm, Pop-Up Contemporary, København
2018 Revner og Sprækker, Gammelgaard, Herlev
2017 ARKIV John Olsen og Pernille Egeskov, København
2016 Dansk Design NU, kurateret af Lars Dybdahl, Designmuseum Danmark
2015 Girls Only, 21 kvindelige kunstnere, kurateret af Antonia Marsh, GirlsOnly NYC, København
2014-15 NÆRVÆRK kurateret af Martin Bigum, POP-UP Contemporary og Randers Kunstforening, København og Randers
2012 PEEP(a), IKK-Festival, Københavns Universitet, Kunst & Kultur
2012 Relationer, POP-UP Contemporary og Randers Kunstforening, København og Randers
2012 PEEP, POP-UP Contemporary, København
2008 Summertime, Henningsen Contemporary, København
2008 My Favorite Thing, kurateret af Peter Amby, Henningsen Contemporary, København
Erhvervet af:
Randers Kunstmuseum
Designmuseum Danmark
Dinesen
Fritz Hansen
George Jensen Damask
NYKREDIT Kunstsamling
Nomineret til Nordic Award in Textiles 2017
Støttet af:
Statens Kunstfond.
Grosserer L.F. Foghts Fond
Medlem af:
Kunstnersamfundet
BKF, Billedkunstnernes Forbund