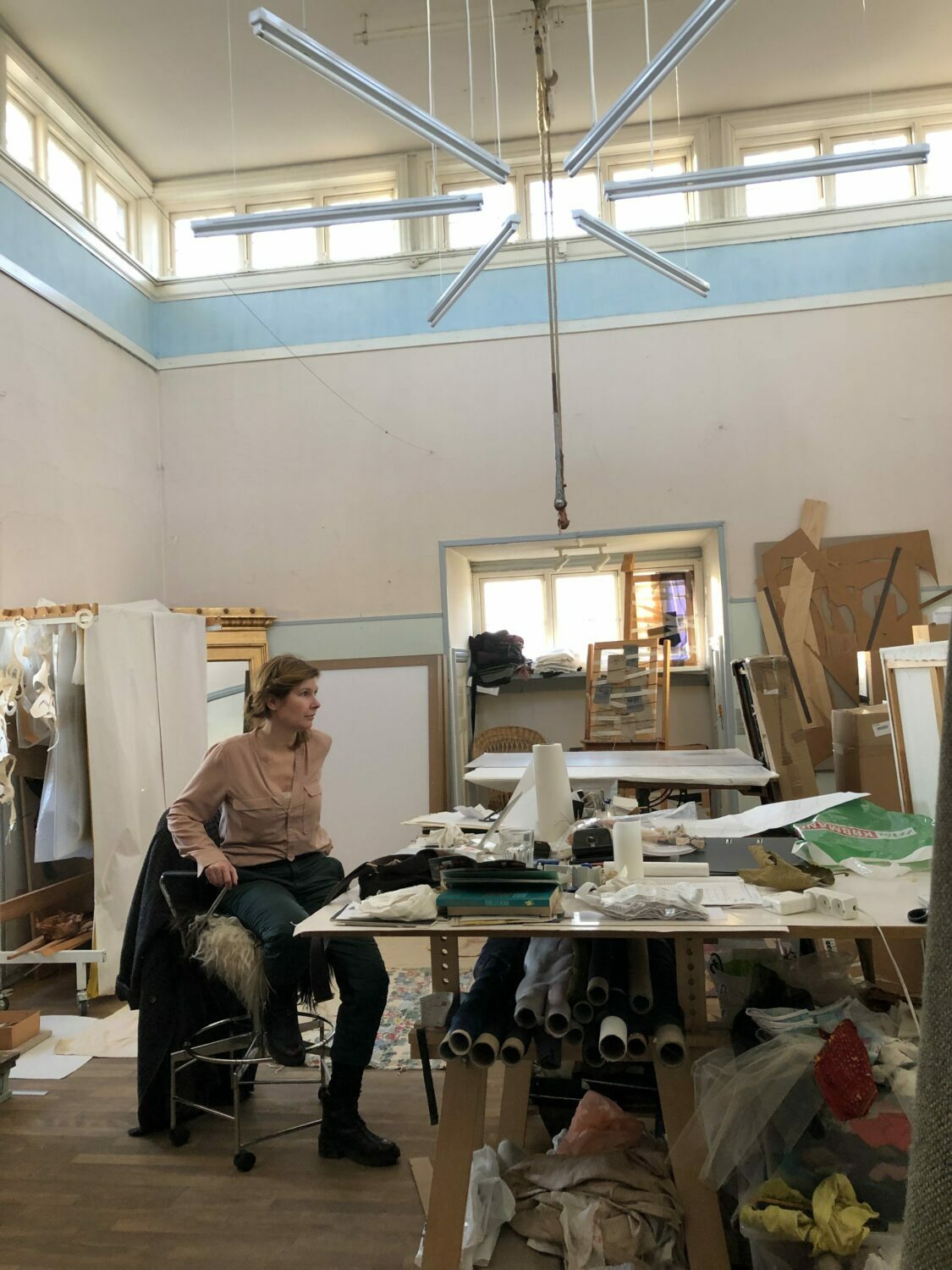 PERNILLE EGESKOV: born in 1970, lives and works in Copenhagen. Educated in 1997 as a costume designer from the Royal Danish Academy of Fine Arts' School of Design. In 2007, she made her debut as a visual artist at Charlottenborg's Spring Exhibition and has since worked as a visual artist.
Pernille Egeskov has had several significant museum exhibitions, including at Bornholm Art Museum in 2019 with the solo exhibition "Belonging", which in 2020 was shown in an expanded version at Vendsyssel Art Museum.
In 2018 she has exhibited solo in Haus8 in Kiel (Risse & Spalten) and participated in an exhibition at the Museum Burg Posterstein (Salon Europa) in Germany.
In 2015, she exhibited at Vejle Art Museum with the solo exhibition "Unravel".
Pernille Egeskov is the initiator and leader / curator of the exhibition platform Pop-Up Contemporary, a non-profit experimentarium for significant artists and guest curators from home and abroad, to try out new artistic ideas and initiatives.
In her artistic practice, Pernille Egeskov works in a poetic and conceptual universe with collages, objects and installations. The choice of material ranges from found objects, organic material as well as textiles with inherent meanings. Despite the abstract nature of the works, they process existential themes in a narrative form. To evoke the lived life in the chosen material / or thing is central to the artist.
Selected solo exhibitions:
2022 Take Care (Home), Pikisaari Biennaali, Pikisaari Art Hub, FI
2022 rede, a pop-up exhibition at Goldsmith Edith Hegedüs, Copenhagen, DK
2020 Belonging (in an extended version), Vendsyssel Art Museum, DK
2019 Belonging, Bornholm Art Museum, DK
2019 Cracks and Crevices, Haus8, Kiel, Germany, D
2017 ARKIV, (duo-udstilling) John Olsen and Pernille Egeskov, Copenhagen, DK
2017 Nye Voksne, (New Adults) Oktogonen, The Royal National Library, Copenhagen, DK
2016 Home, The Anouska Hempel Apartment of Dinesen, Copenhagen, DK
2015 UNRAVEL, curated by guest curator Merete Sanderhoff, The Museum of Art, Vejle, DK
2015 UNRAVEL, Museumsbygningen by Banja Rathnov, Copenhagen
2010 Statemental, Pop-Up Contemporary, Copenhagen
2009 Curtains, Henningsen Contemporary, Copenhagen
2003 Shadow Land, Politiken vestibule
Selected group exhibitions:
2022-23 Bornholmermalerne tur-retur, a mixture of contemporary and modernist artists, Bornholm Art Museum, DK.
2021 Collage, Udstillingssted for Tekstil, curated by Anne Fabricius Møller, Copenhagen, DK
2021 Man-Maid-Nature, Nordic tour, curated by Claire Gould, Pop-Up Contemporary, Copenhagen DK, Helsinki FI,
2020 Natur=vis, Fussingø Slot, Randers Art Society, DK
2019 Om og om igen, curated by Camilla Thorup and Anne Torpe, Gallery Koldinggade 12, DK
2018 Salo Europa, Museum Burg Posterstein, Germany D
2018 Resonans, curated by Anna Holm, Pop-Up Contemporary, Copenhagen /Randers DK
2018 Revner og Sprækker, Gammelgaard, Herlev, DK
2016 Papier trifft Textil, Kunst&Co, Flensburg, D
2016 Danish Design Now, curated by Lars Dybdahl, Design Museum Denmark, DK
2015 Girls Only,21 artist women, curated by Antonia Marsh, GirlsOnly NYC, Copenhagen
2014-15 NÆRVÆRK curated by Martin Bigum, POP-UP Contemporary and Randers Art Society, Copenhagen and Randers
2012 PEEP (a), IKK-Festival, University of Copenhagen, Arts & Culture
2012 Relations, POP-UP Contemporary and Randers Art Society, Copenhagen and Randers
2012 PEEP, POP-UP Contemporary, Copenhagen
2008 Summertime, Henningsen Contemporary, Copenhagen
2008 My Favorite Thing, curated by Peter Amby, Henningsen Contemporary, Copenhagen
Acquired by:
Vendsyssel Art Museum
Bornholm Art Museum
Art Museum of Randers
NYKREDIT Art Collection
Design Museum Denmark
Dinesen
Fritz Hansen
George Jensen Damask
Nominated for Nordic Award in Textiles 2017
Member of:
The Royal Danish Academy of Fine Arts, member of the Society of Artists.
Danish Visual Artists BKF
DA:
PERNILLE EGESKOV: født i 1970. Uddannet i 1997 som kostumedesigner fra Det Kongelige Danske Kunstakademis Skole for Design. I 2007 debuterede hun som billedkunstner på Charlottenborgs Forårsudstilling og har siden arbejdet som billedkunstner.                                                              
Pernille Egeskov har haft flere markante museumsudstillinger bl.a. på Bornholms Kunstmuseum i 2019 med soloudstillingen "Belonging", der i 2020 blev vist i en udvidet version på Vendsyssel Kunstmuseum.
I 2018 har hun udstillet solo i Haus8 i Kiel (Risse &Spalten) og deltaget i en udstilling på Museum Burg Posterstein (Salon Europa) i Tyskland.
I 2015 udstillede hun på Vejle Kunstmuseum med soloudstillingen "Unravel".
Pernille Egeskov er initiativtager til og leder/kurator af udstillingsplatformen Pop-Up Contemporary, et non-profit eksperimentarium for signifikante kunstnere og gæste-kuratorer fra ind- og udland, for at afprøve nye kunstneriske ideer og initiativer. 
I sin kunstneriske praksis arbejder Pernille Egeskov i et poetisk og konceptuelt univers med collager, objekter og installationer. Materialevalget strækker sig fra fundne genstande, organisk materiale såvel som tekstiler med iboende betydninger. Værkernes abstrakte karakter til trods bearbejder de eksistentielle emner i en fortællende form. At fremmane det levede liv i det valgte materiale /eller ting er centralt for kunstneren. 
Udvalgte soloudstillinger:
2022 Take Care (Home), Pikisaari Biennaali, FI
2022 rede, pop-up udstilling hos Guldsmed Edith Hegedüs, København.
2020 Belonging, Vendsyssel Kunstmuseum
2019 Belonging, Bornholms Kunstmuseum
2019 Cracks & Crevisis, Haus8 Kiel, Tyskland
2017 Nye Voksne, Oktogonen, Den Sorte Diamant
2016 Hjem, Dinesen Appartment, København
2015 UNRAVEL, kurateret af gæstekurator Merete Sanderhoff, Vejle Kunstmuseum, Vejle
2015 UNRAVEL, Museumsbygningen v/ Banja Rathnov, København
2010 Statemental, Pop-Up Contemporary, København
2009 Curtains, Henningsen Contemporary, København
2003 Skyggeland, Politikens Forhal
Udvalgte gruppeudstillinger:
2022-23 Bornholmermalerne tur-retur, et mix af modernistiske- og samtidskunstnere, Bornholms Kunstmuseum, DK.
2021 Collage, Udstillingssted for Tekstil, curated by Anne Fabricius Møller, Copenhagen, DK
2021 Man-Maid-Nature, Nordisk udstillingsturné kurateret af Claire Gould, Pop-Up Contemporary, København, Helsinki,
2020 Natur=vis, Fussingø Slot, Randers Kunstforening
2019 Om og om igen, kurateret af Camilla Thorup og Anne Torpe, Koldinggade 12
2018 Salon Europa, Museum Burg Posterstein, Tyskland
2018 Resonans, kurateret af Anna holm, Pop-Up Contemporary, København
2018 Revner og Sprækker, Gammelgaard, Herlev
2017 ARKIV John Olsen og Pernille Egeskov, København
2016 Dansk Design NU, kurateret af Lars Dybdahl, Designmuseum Danmark
2015 Girls Only, 21 kvindelige kunstnere, kurateret af Antonia Marsh, GirlsOnly NYC, København
2014-15 NÆRVÆRK kurateret af Martin Bigum, POP-UP Contemporary og Randers Kunstforening, København og Randers
2012 PEEP(a), IKK-Festival, Københavns Universitet, Kunst & Kultur
2012 Relationer, POP-UP Contemporary og Randers Kunstforening, København og Randers
2012 PEEP, POP-UP Contemporary, København
2008 Summertime, Henningsen Contemporary, København
2008 My Favorite Thing, kurateret af Peter Amby, Henningsen Contemporary, København
Erhvervet af og repræsenteret på:
Vendsyssel Kunstmuseum
Bornholms Kunstmuseum
Randers Kunstmuseum
Designmuseum Danmark
Dinesen
Fritz Hansen
George Jensen Damask
NYKREDIT Kunstsamling
Nomineret til Nordic Award in Textiles 2017
Støttet af:
Statens Kunstfond.
Grosserer L.F. Foghts Fond
Brdr. E., S. og A. Larsens Legat
Medlem af:
Kunstnersamfundet
BKF, Billedkunstnernes Forbund